Our Facials are customized for your individual skin type, condition, level of sun damage and your special needs.
Stress can by a major cause of aging. Facials, Body Treatments and Massages are great way to relieve stress and to slow the aging process.
Our Facials cleanse your skin and our relaxing atmosphere helps relieve your stress.
Relaxing Facial
This is a very popular facial based on different pure Essential Oils, which have profound effects on the body, mind and spirit. Essential for maintaining radiant and healthy skin. Treatment includes: Skin analysis, deep pore cleansing, special regeneration mask with Essential Oils and moisturizing. Relaxing Facial is completed with soothing face, scalp, neck, shoulders, hands and feet massage. Excellent for relaxation.
| | |
| --- | --- |
| Relaxing Facial | 60 Minutes $90 |
European Facial
Beautyskin's European Facial incorporates skin analysis and deep pore cleansing under the steam. Eminence organic peeling solution exfoliates damaged skin and extractions are made when needed. Then customized Eminence organic mask is applied to purify, refine and hydrate your skin. Followed with application of organic day moisturizer and sunscreen. European Facial detoxifies, oxygenates and rejuvenates your skin, while you enjoy a face, shoulder and scalp massage.
| | |
| --- | --- |
| European Facial | 90 Minutes $115 |
Deluxe Organic Facial
This facial is designed to give you a superior experience. It is a combination of our Relaxing and European Facials using only the purest Eminence Organic products. Deluxe Organic Facial includes deep cleansing, balancing and toning of the skin. Powerful peeling solution helps to exfoliate sun damaged and aging skin, lightens hyper-pigmentation, helps to control acne, refreshes and smoothes the complexion and minimizes fine lines. Extractions are made when necessary. Pleasant facial massage is followed by deep penetrating nutritive mask and finished with soothing moisturizer to help hydrate and nourish your skin. Face, scalp, neck, shoulder, hand and foot massage complements the treatment. Your skin will look soft and smooth with a radiant glow and you will feel reenergized and totally relaxed.
| | |
| --- | --- |
| Deluxe Organic Facial | 75 Minutes $120 |
Acne Advanced Treatment Facial
Treat your acne naturally with this botanical-rich facial, packed full of organic ingredients that specifically address acne conditions such as excess oil, hyperpigmentation and scarring. Potent timerelease encapsulated salicylic acid deeply penetrates pores to dissolve excess build-up, powerfully cleaning out blackeads and preventing  future congestion. Our Acne Advanced Facial is a perfect first step to clearer skin.
To achieve desired results 4 facial treatments once a week are recommended. Then continue the home care with Acne Advanced Treatment System.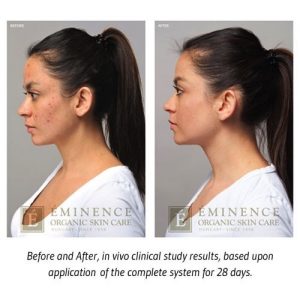 | | |
| --- | --- |
| Acne Advanced Treatment Facial | 90 Minutes $120 |
Paprika Herbal Treatment
This is definitely the HOTTEST treatment in town!
The combination of the Paprika Herbal Treatment and another Herbal Treatment – one which best suits your individual skin type, is applied as two layers on the face, neck, and decollete.
The benefits of this procedure are the purification and detoxification of the skin. It will clear clogged pores and remove dead skin cells.
Paprika Herbal Treatment assists in stimulating cellular repair and blood circulation while increasing metabolism. It also detoxifies, clarifies skin, and improves acneic skin conditions. Imparts a rosy, radiant complexion.
After the herbal treatments are removed from the skin, we apply one of the specially chosen Herbal Masques – which have intense healing, soothing and nourishing properties with organic herbs and antioxidants.
This Herbal Masque assists in toning and refining skin, helps prevent blemishes and eruptions, and leaves the complexion with a healthy, smooth, and hydrated glow.
The final stage of Paprika Herbal Treatment ends with a relaxing massage with all-natural Herbal Moisturizer, again suited to your skin type.
Paprika Herbal Treatment Active Ingredients: Rosemary, St. John's Wort, Sage, Lavender, Paprika, Thyme, horse-tail, blackberry leaves, essential oils, fruit acids, vitamins B6, C, mineral salts, bioflavinoids.
Recommended for all skin types except for sensitive skin. Paprika Facial Treatments are 100% customized for your individual skin type, condition, level of sun damage and your actual special needs.
| | |
| --- | --- |
| Paprika Herbal Treatment | 75 Minutes $115 |
Busy Woman Facial
Is your busy lifestyle keeping you from taking care of your skin? Let us help you! This facial is especially designed for women who are extremely busy and need to fit their facial into the 30 minutes time frame. This powerful quick facial includes
Free skin analysis
Light cleansing with exfoliating wash
Mask to firm and tighten the skin
Moisturizing
| | |
| --- | --- |
| Busy Woman Facial | 45 Minutes $95 |
Glam Teen Facial
Taking good care of your skin should start when you are in your teens. Teen skin generally produces more oil than more mature skin due to the hormone changes. Although the skin is usually well hydrated at this age, excess oil can contribute to the acne and other skin problems. This epic glam facial specifically designed for teens can help to unclog pores,reduce oil, clear acne, and make you feel great. Glam Teen Facial includes:
Deep skin cleansing
Facial steaming to open the pores
Extraction
Exfoliation to improve skin texture
Facial mask to draw out impurities
Toning and moisturizing
| | |
| --- | --- |
| Glam Teen Facial | 90 Minutes $95 |
Gentlemen's Facial
This is a thorough cleansing, exfoliating and purifying facial designed especially for men. Extractions are made when necessary. Then individualized treatment mask for your skin type is applied followed by face, shoulders, neck and scalp massage. Facial is completed with moisturizer and sun protection cream. Complementary hair trim of ears, nose and eyebrows is included. Please shave before facial.
| | |
| --- | --- |
| Gentlemen's Facial | 75 Minutes $115 |